WeRent note: On average an extra room produces $50 per week extra income. At the $10,000 price this is a 25% return on investment for a sleepout of this price. Also you get higher depreciation on a temporary building so there is no extra tax off either.
NZ Herald By Anne Gibson
5:30 AM Tuesday Jul 23, 2013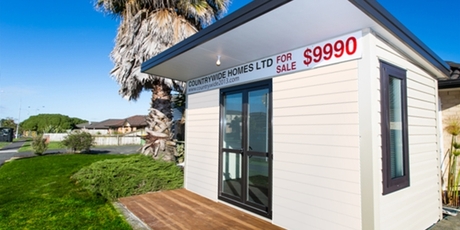 Sleepouts built in China are insulated, double-glazed, have a deck and are being sold in New Zealand from $9990.
Sleepouts built in China are due to arrive in New Zealand in containers in the next two months.
Graeme Reynolds, of Auckland's Countrywide Homes and Dynamic Homes, said he was working with a business partner here and another in China so a factory based in Jinan could prefabricate sleepouts using assembly line construction.
Insulated, double-glazed cabins with a deck are being advertised for $9990 to $12,000, promoted as "cheaper than rent".
Dewey Yu, the Auckland-based business partner, said a four-bedroom house made via this method might sell for about $176,000.
Countrywide Homes at 516 Chapel Rd in Flat Bush is advertising the cabins, which Reynolds said met a demand.
"The reason we are producing these is that being under 10sq m, they do not require building consent," Reynolds said.
"They come as a kitset, floor, four walls and roof and are put together in about an hour. The walls are joined at the corners," he said.
"We have sold five and are keeping one for display and inspection purposes. We placed an ad in the Manukau Courier and are now filling the second container," Reynolds said.
Fletcher Building is examining building houses en masse in a factory in New Zealand.
Graham Darlow, Fletcher Construction chief executive, said last week investigations were under way but nothing had been decided.
Reynolds said bigger houses could easily be built at the Chinese factory.
"As far as bigger houses go, we are only limited by what we can fit in a container, Reynolds said.
"With a standard 2.4m stud height, that is no problem," he said.
"We can prefabricate wall panels up to 10m long.
"Initially our designs will be mono-pitch for ease of packing flat roof panels and we have designed a click together flooring system."