Hordes of returning students among those flocking to view well-priced inner-city rentals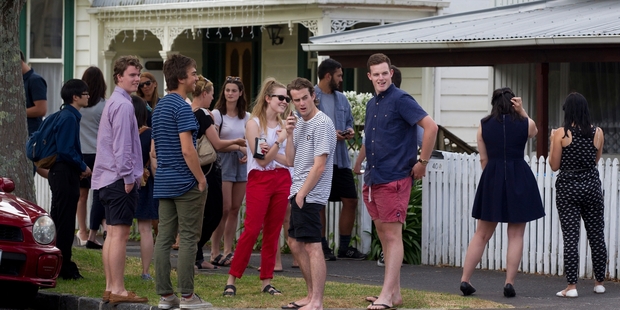 by Teuila Fuatai
WeRent note: We are seeing large rises in demand and in rents this Jan/Feb. Particularly for 3+ bedroom houses in Central and North Shore suburbs. Expect a surge in rental prices this year as happened in early 2010.
Well-priced central Auckland rentals are attracting dozens of prospective tenants to open homes, with many people queuing to see a vacant property, a real estate company says.
Joe Schellack, general manager at Crockers Property Management, said up to 40 people were showing up to viewing sessions for some rental properties in the central city and city fringe areas.
"The prospective renters are from all walks of life and all nationalities, but students and working holiday visitors are certainly back in force for the central city areas," Mr Schellack said.
Two and three-bedroom places priced between $300 and $500 per week were in hot demand.
"If priced correctly, most properties get applications at the first viewing. [They are being rented] about three to four days after being listed," he said.
"Two to three-bedrooms are in demand, as students or groups are able to split the rent between them."
The Herald visited several open homes in Auckland on Monday.
A four-bedroom flat on Burnley Terrace, which attracted more than 30 people, had a crowd of eager young students lining up to view it.
Another four-bedroom place on Clarence St in Ponsonby also had a steady stream of keen renters.
Surveyor Sam Wells, 22, was among the hopefuls. He and his three friends have looked at about four places in the last fortnight.
"Everything we've been to, it's been the whole open viewing, short sessions – so they're always packed," Mr Wells said. "We haven't heard back from anyone yet because it's all been in the early stages for all of them."
The group have a budget of about $880.
While good references and being "first to the party" was important, standing out against the masses of keen renters was probably the main obstacle, he said.
"I think this one turned up on Trade Me [on Sunday] and just in the last five minutes, there's been 20-odd people through it."
Tenants have already been warned to plan for a rise in rent this year as demand increases.
Barfoot and Thompson director Kiri Barfoot and David Whitburn, immediate past president of the Auckland Investors Association, said Auckland rents rose 4.6 per cent in the year to November 30 – up an average $21 a week across all suburbs and categories. A similar increase was expected this year, they said.